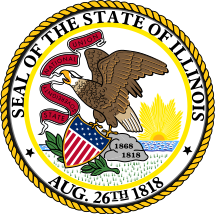 Name of Project
Illinois Department of Corrections (IDOC) Offender Data Sharing
Name of Jurisdiction
State of Illinois
Description of Problem
Prior to Offender 360, the Illinois Department of Corrections' (IDOC) reception and classification centers received offender information in a paper format when the offender was transferred to IDOC custody from the county. As a result, IDOC was forced to collected demographic information and repeat offender examinations and assessments already performed at the county level. The Department spends approximately $50 million annually processing around 17,500 offenders, which roughly equates to over $2,800 per inmate on processing alone.
Furthermore, the demand to provide real-time information on IDOC's offender population increased in 2010 when the Department's Meritorious Good Time (MGT) Push program— which allowed for early release of nonviolent offenders—was suspended.
To tackle this mounting problem, IDOC  streamlined offender information sharing across agencies.
Description of Solution
IDOC contracted for technical assistance to develop a cloud-based offender management system, called Offender 360, that houses all offender data. The new system was constructed using a client relationship management (CRM) platform, which helps manage and analyze client data and interactions, to meet the IDOC's specific needs and requirements. Offender 360 includes an enterprise service data-sharing portal that enables Illinois' counties to send and receive offender information using the National Information Exchange Model (NIEM) compliance standards.
This seamless data-sharing solution enables IDOC to:
Track, manage, and report on the populations throughout the Illinois justice continuum, from arrests and bail decisions to release and discharge from IDOC custody.
Accelerate IDOC's ability to classify and determine offender risks and needs for programming and treatment.
Implement a standards-based offender information sharing capability across state and local justice-involved agencies.
Achieve a prescribed, repeatable process to integrate all Illinois counties.
Reduce offender processing time and costs.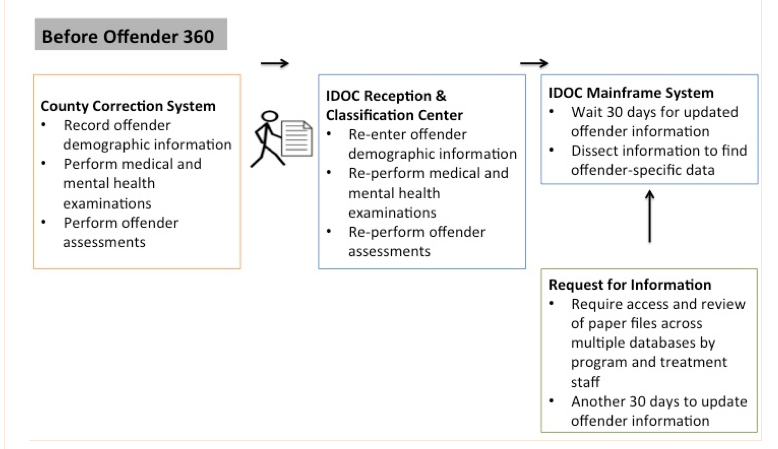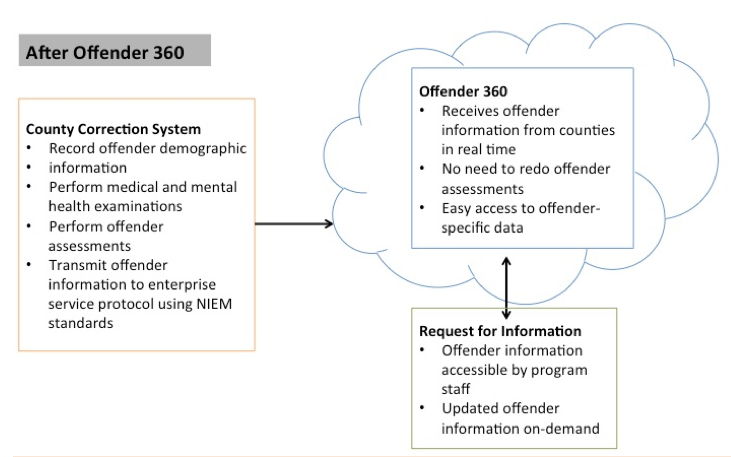 Impact
The Offender 360 system provides IDOC with a number of benefits:
Streamlines and provides real-time access to information from Illinois' committing counties;
Mitigates errors and redundancy by reusing common system components;
Provides relevant and comprehensive offender information to accelerate classification, programming, and treatment tailored to each offender's needs;
Isolates the information-sharing process across individual agency system changes; and
Supports Illinois move toward collaboration and each entities' public safety goals.
Offender 360's data-sharing capabilities are estimated to save 2.5 hours per offender, which is equivalent to $800, during the reception and intake process by eliminating the need to re-enter offender information after an offender is transferred into IDOC custody. The state anticipates additional cost savings as additional phases of the project are completed.
The next phase of the Offender 360 project includes new classification and placement instruments designed to inform management decisions on personal behavioral planning for the offender population. This phase was scheduled to be complete by September 2017. IDOC will use this data-driven improvement to optimize Department resources for training staff and for developing and implementing evidenced-based programs that help ensure an offender's successful re-entry into the community and mitigate the offender's risk of re-offending.
References