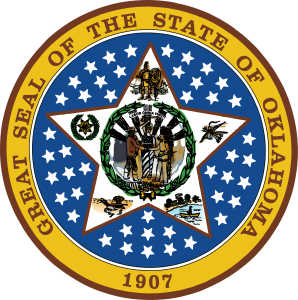 Name of Project
Innovate Oklahoma – Creating the Silicon Prairie
Name of Jurisdiction
Office of Management and Enterprise Services, State of Oklahoma
Description of Initial Problem
Oklahoma is ranked 47th in the nation in its level of innovation among other states, according to a 2017 study from Forbes.
While Oklahoma has experienced a fall in competitiveness when it comes to building a digital economy and e-Government, the state has initiated several efforts to address this problem by removing legacy IT systems, unifying agencies IT programs, and updating citizen services. For example, Oklahoma unified 111 state agencies for a projected savings of over $372 million. Similarly, the state cut its number of differing IT systems from 1,200 to 749.
Now Oklahoma is focused on improving delivery of services for citizens to reduce costs, produce greater efficiency, and improve the state's tech economy. Indeed, a shift in how citizens access services demands a shift in how state governments offer services.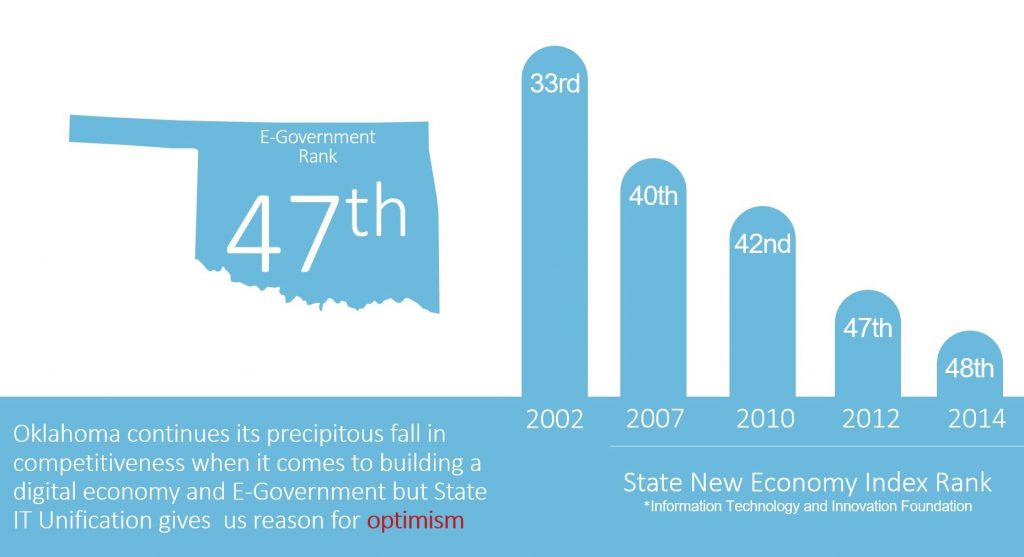 Description of Solution
"Oklahoma is on its way to becoming the Silicon Prairie of the Heartland," said Gov. Mary Fallin as she announced the Innovate Oklahoma program, a new technology initiative between the Office of Management and Enterprise Services (OMES) and the Oklahoma Center for the Advancement of Science and Technology (OCAST). Oklahoma launched the project in September 2017.
Innovate Oklahoma leads innovation in the state with the following goals:
Build strong partnerships between OMES, OCAST, and other state entities to modernize state government.
Encourage innovation by creating meaningful interactions with citizens and the business community for engagement and feedback.
Grow the state's economy by encouraging and supporting the startup technology community.
The initiative will allow custom technology applications to be developed to directly meet the needs of state departments and agencies, leading to innovation and efficiency in government.
The Innovate Oklahoma website, innovate.ok.gov, gives citizens the opportunity to submit a challenge or problem they would like the government to solve with an online application. From there, the submission becomes a foundation block to launch a community-led, collaborative environment for innovators and entrepreneurs to create technology solutions to improve Oklahoma's government services.
Impact
OMES and OCAST will lead the initiative and join with other nonprofits to inform and engage the local technology community and startup companies in providing solutions. Oklahoma currently spends $170 million annually on technology professional services and application support. As the state updates its legacy technologies, there is an opportunity to look at innovative solutions created by innovation projects, where local technology startup companies can collaborate on state government challenges.
Innovate Oklahoma helps to create a niche market of innovative jobs, and can improve the quality of technology workforce inside Oklahoma.
The Silicon Prairie will develop coders, programmers, innovators and entrepreneurs through new companies and startups. Growing Oklahoma's tech economy will help keep local talent, as well as recruit talent from outside the state.
References
Acknowledgements
Dustin Crossfield, IT Director of Technology Services